A metal pegboard is a versatile storage solution that can be used in a variety of settings, from the garage to the workshop. They are typically made from steel or aluminum and have a series of holes drilled into them which allow for the placement of pegs, hooks, or other objects.
Pegboards are an excellent way to organize tools, parts, and other small items as they provide a neat and tidy appearance. They can also help to reduce clutter in your work area as everything has a place and can be easily accessed when needed.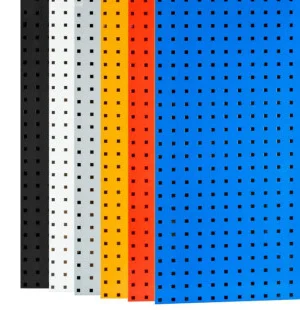 Installing a metal pegboard is relatively simple and can be done by anyone with basic DIY skills. The most important thing to consider is the weight of the board and the items you will be storing on it, as this will determine the type of fixings required. Once you have decided on the location and chosen the right size board, simply secure it to the wall using screws or nails.
Once installed, metal pegboards are extremely versatile and can be used in a number of ways. Pegs or hooks can be added to create custom storage solutions for your specific needs, while baskets and shelves can also be hung from them to provide additional storage space.
The Installation Of The Metal Pegboard
The installation of the metal pegboard is a simple process that can be completed in a few minutes. The first step is to determine the location of the studs in the wall. Once the studs have been located, mark the desired location of the metal pegboard on the wall. Next, drill pilot holes into the studs at the marked locations. Finally, use screws to secure the metal pegboard to the wall.
The Function Of The Metal Pegboard
The function of the metal pegboard is to provide a sturdy, reliable surface for attaching hooks and other hardware. This makes it ideal for use in garages, workshops, and other areas where heavy objects need to be hung. The metal pegboard is also very easy to install, and can be done so by anyone with basic DIY skills.
Related News
1.  One Kind Of Our Common Tools-Pegboard Rack